Most people believe that men are better comedians than women. But, is it really true? Not only are women capable of being funny, but they are also all kinds of funny! Just look at the top 10 laugh-out-loud books by hilarious women for proof!
From silly jokes to controversial opinions, erudite satire, and personal biography, women have a lot to say. And, if you have ever heard of the ridiculous statement that women aren't funny, we are here to prove you wrong.
We have compiled a list of the funniest laugh-out-loud books of essays by hilarious women. These 10 books showcase unique, diverse voices, and are meant to chase away the quarantine blues. Here are some amazing comic books by women!
10 Laugh-Out-Loud Books by Hilarious Women
Here we have listed 10 laugh out loud books by hilarious women
1. We Are Never Meeting in Real Life By Samantha Irby
If you are in the mood for some light quarantine reading, this is the book you should pick up. We Are Never Meeting in Real Life by Samantha Irby is an amusing collection of essays that touches upon the inevitable ups and downs of life.
The topics in this collection are as varied as to why Samantha Irby should be a contestant on the Bachelorette, living under a budget, navigating friendships with former drinking buddies who have become suburban moms, a pilgrimage to Nashville, and so on. What makes this book so great is that it is not just funny, but Irby knows how to be relatable as well.
2. Bossypants by Tina Fey
Tina Fey is a woman who needs no introduction. Who wouldn't want to hear Tina Fey's story being told? Bossypants is a collection of memoirs from Fey's youthful days as a nerd to her journey on Saturday Night Live.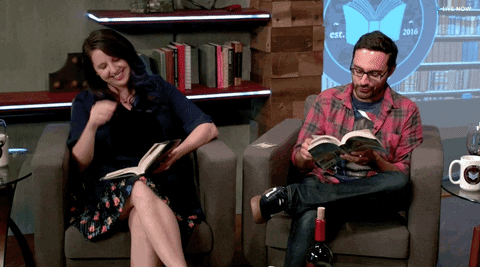 As Tina Fey reveals it all, each story is brilliant and personal. The book ends with proving as an assumption we have all suspected: you are no one until someone thinks you are bossy.
Also, read 10 Life-Changing Books
3. She Memes Well by Quinta Brunson
Quinta Brunson is the women author 2021. She Memes Well is a comic book that is also a thoughtful critique of the modern era of comedy, internet comedy. Written by a person who rose to fame through internet comedy, this book is honest and provides a fascinating look into the culture of comedy. With implications of silly, self-conscious, and meta humor, this is the book of the year!
4. Mrs. Funnybones by Twinkle Khanna
Mrs. Funnybones by actress-turned-author Twinkle Khanna is an anthology of satirical stories. The book vividly captures episodes from the author's life with her amusing take on each. Twinkle Khanna seems to have an opinion on everything and she is not afraid to share it! This is the book that made Twinkle Khanna the highest-selling female author of 2015.
5. Drinking at the Movies by Julia Wertz
A full-length graphic memoir by Julia Wertz, Drinking at the Movies documents the time she left San Francisco for the wild streets of NYC. An interesting take on a coming-of-age perspective, this book is filled with intriguing art, absurd humor, chronicles of sketchy apartments, family drama, traveling mishaps, uncountable whiskey bottles, and so on. The latest edition features an introduction from Janeane Garofalo and Julia Wertz's sketchbook!
6. Hyperbole and a Half: Unfortunate Situations, Flawed Coping Mechanisms, Mayhem, and Other Things That Happened by Allie Brosh
Hyperbole and a Half is yet another laugh-out-loud book of essays by hilarious women that you must read. A full-color, beautifully illustrated book, Hyperbole and a Half features new content with 10 additional hilarious essays. Filled with moving pieces like "Adventures in Depression" and "Depression Part Two" contain some of the honest and insightful views ever written on the disease.
7. The Last Black Unicorn by Tiffany Haddish
If there is one person who can't avoid being funny, it is Tiffany Haddish. One of the funniest comic books by women, The Last Black Unicorn is a chronicle of how a black woman who came from nothing, built her empire and achieved her dreams. An ugly, brutally honest, and hilarious chronicle, this book reveals who Tiffany Haddish really is. The Last Black Unicorn is inspiring, real, witty, and vulnerable. It's a must-read for young women.
8. How to Be a Woman by Caitlin Moran
How to Be a Woman by Caitlin Moran provides delightful observations into women's lives. Documenting her experiences from the riot of puberty to her character arc as an accomplished writer, Caitlin Moran hands the truth on a silver platter. A raw script, How to Be a Woman features conversations about love, abortion, fat, feminism, pop culture, children, and a lot more. With great humor and insight, this book lays down why issues of women empowerment and female rights aren't just women-centric issues but concerns for the society itself.
9. Penny Pinching Tips for the Morally Bankrupt by Libby Marshall
One of the notable funny genre books of 2021 is this one by Libby Marshall. Even though Libby Marshall is a known contributor to the internet's most vital humor sites, this is her first shot at a book of essays. These short stories frequently cross the line between death and darkness as Marshall proves that life isn't mundane by aggressively cruel. Penny Pinching Tips is startling and has a diverse, forward-thinking comic voice.
10. I'm The One I Want by Margaret Cho
Last but not least, we have I'm The One I Want by Margaret Cho. Trash talker, comedian, tv star, role model Margaret Cho presents her various funny sides in this honest memoir. Being one of the world's most visible Asian Americans, she uses her voice to deliver her unique perspective on acceptance and identity.
A warm yet funny book, Cho has words of encouragement for women struggling in life. These were some of the laugh-out-loud books of essays by hilarious women. Happy reading!
Also Read: 7 Brilliant Books By Indian Authors