If there is one thing that women can't get enough of, it is cats! If it were up to a cat mom, they would have a national holiday to celebrate how incredible feline species are. Unfortunately, since that is not the case, you should find every occasion in life to appreciate cat lovers.
We have compiled a list of the best gift ideas for the modern cat lady. Most of these ladies' gift ideas are unique, and will impress a cat lover! Since the best things to gift to feline-obsessed ladies are cat gifts, here are some of the most purr-fect Christmas ladies gift ideas.
10 Gift ideas for the modern cat lady
Under a budget? Worry not! We have included some of the most unique and thoughtful cat ladies gift ideas under 10$ as well.
1.How To Tell If Your Cat Is Plotting To Kill You by The Oatmeal
Price: $8.99
How To Tell If Your Cat Is Plotting To Kill You by The Oatmeal is a hilarious and practical guidebook that educates cat moms on dealing with their fur babies' worst impulses. Every cat mom needs an insight into their cat's mind.
This illustrated guide is the closest shot to that. This New York Times bestseller is hilarious and full of comic vignettes along with tongue-in-cheek instructions. If not for anything else, this will definitely keep cat moms distracted while their cats go crazy!
2. Pet Portrait Necklaces
Price: $39 to $56
Whether she is a brand-new cat mom or grieving the loss of a furry friend, pet portrait necklaces are some of the best ladies' gift ideas Pinterest. These necklaces will allow the cat mom to keep their furry babies close to them at all times.
The best part? They are customizable and you can personalize them as you like!
Also, read 14 Gift Ideas To Your Rescue: The Perfect Graduation Gift Ideas For Your Child
3. Cat Sling Carrier
Price: $23
If there is one thing cat moms worldwide love, those are practical gifts. One can never go wrong with a cat sling carrier! Instead of carrying her cat in her arms, she can carry the feline baby hands-free!
Also, read Sleep And Mental Health: 10 Ways Some Good Zzzzs Can Make You Feel Better
The thick straps allow the cat mom and the fur baby to be comfortable and keep the carrier on for hours.
4. Custom Cat Mom Mug
Price: $18
If she's proud to be a cat mom, she needs to own it! A personalized cat mom coffee mug makes things official. There are loads of designs and styles to choose from, and of course, you can customize it to your liking.
Maybe add a picture of the furry friend for a personal touch! These customized mugs can easily be found on Etsy and similar online stores.
Also, read Pamper Yourself With These Awesome Gifts To Get Over Your BreakUp
5. Cat-to-do-list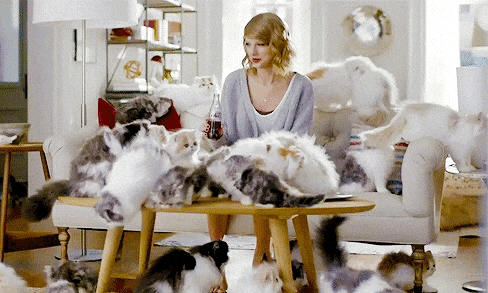 Price: $6.97
This is one of the best gift ideas for the modern cat lady. Cat moms are typically busy people, trying to juggle their professional work life and life at home with their cats.
And, cat moms likely do everything with their cats in mind. These sticky notes are a great gift. It is practical, cute, and a constant reminder of the furry friend.
6. Cat Tarot Cards
Price: $16
All cat lovers know that the wisdom of a cat is infinitely genius. On that note, this is one of the most thoughtful and fun gifts ever!
What's a better way to combine your passion for tarot reading with your obsession with the feline species than cat-themed tarot reading cards?
7. Shiro Cat Light
Price: $22
This Shiro Cat Light from Urban Outfitters is the perfect gift for cat lovers and night owls. This USB-powered cat lamp can be kept on the nightstand, desk, or any shelf to bring cat-themed cheer to the room.
The best thing about this night light is that you don't need any batteries, extensions, cords, or outlets. Just tap on Shiro's head, and he will light up your room!
8. Cat Succulent Planter
Price: $26
Cat lovers dig everything cat-themed. These cat succulent planters are the perfect ladies' gift ideas, are super practical, and can decorate any room. These planters can either be filled with a faux plant or left empty.
The choice is yours! You can also use these cat succulent planters as storage units for storing bits and pieces lying here and there.
9. Cat cheese board
Price: $18
This cat cheese board from Urban Outfitters can light up any party. The next time you or your cat-loving friend host a happy hour, this is the cheese board that you should use to display your assortment of cheeses, crackers, and other snacks.
A cute gift, this one is our personal favorite!
10. Cat Puzzles
Price: $19.99
Last but not least, we have this set of cat puzzles that make for one of the perfect gift ideas for the modern cat lady. Everyone needs to let go and relax once in a while. And what's a better way to do so than solving a puzzle about the beautiful feline creatures?
Solving puzzles is a brain relaxing activity that can help a cat mom unwind after a long day. This Cat puzzle from Amazon is compact enough to be solved everywhere, and it also adds its own feline personality touch!
Remember that gift-giving doesn't necessarily mean spending money. Instead, you could also make something for the cat mom. DIY gifts are one of the most endearing forms of appreciation. We bet that the modern cat lady would 10/10 love it!
Also, read 10 Office Must-Haves For Extreme Productivity To Boost Results.